SXSW Buzz | Carolina Chocolate Drops
One of the most talked about groups in 2010 is not a indie rock band, or some hipster electro artist,  but a string band from North Carolina that goes by the name of Carolina Chocolate Drops. The Carolina Chocolate Drops are a traditional black string band that formed back in 2005.
Being young and living in the 21st century, the Chocolate Drops first hooked up through a yahoo group,  Black Banjo: Then and Now (BBT&N) hosted by Tom Thomas and Sule Greg Wilson. Dom was still living in Arizona, but in April 2005, when the web-chat spawned the Black Banjo Gathering in Asheville, N.C., he flew east and ended moving to the Piedmont where he could get at the music first hand.
You can hear their cover of Blu Cantrell's "Hit Em Up Style" on 88Nine RadioMilwaukee.  I got a chance to see them in an intimate setting here at SXSW.  Below are some recordings of their performance, plus a couple of videos (coming soon).  Definitely, do not sleep on the Carolina Chocolate Drops.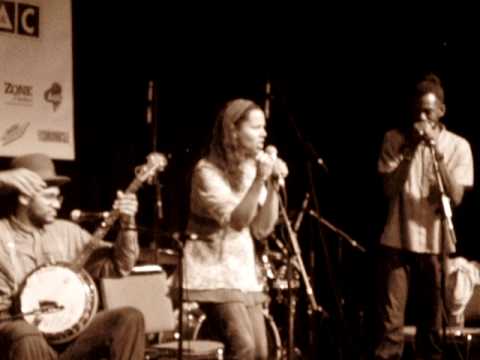 Carolina Chocolate Drops – "Cornbread & Butterbeans" Live from SXSW 2010
Audio clip: Adobe Flash Player (version 9 or above) is required to play this audio clip. Download the latest version here. You also need to have JavaScript enabled in your browser.
Carolina Chocolate Drops – "Snowden's Jig" Live from SXSW 2010
Audio clip: Adobe Flash Player (version 9 or above) is required to play this audio clip. Download the latest version here. You also need to have JavaScript enabled in your browser.
Carolina Chocolate Drops – "Durangs Hornpipe" Live from SXSW 2010
Audio clip: Adobe Flash Player (version 9 or above) is required to play this audio clip. Download the latest version here. You also need to have JavaScript enabled in your browser.